Pressed™ Blog
Here's What Makes Our Limited Edition Fanny Packs So Sustainable
If you've shopped online with us or visited one of our stores this month, you may have noticed a stylish new addition to the line-up: our limited edition fanny packs!

Here's what you should know about our cutest new product - and why you'll be seeing more sustainable products and solutions from us in the near future…
All about our new sustainable fanny packs
ONE: They're crazy cute! We created two versions of these color-blocked packs, launched just this month. One pack comes in baby blue and emerald green, the other in 'strawberry milk' rose pink and navy blue.

Wear the pack around your waist or over your shoulder - it's up to you! Cheers to the one fashion accessory we thought would never come back in style, but are welcoming with open arms.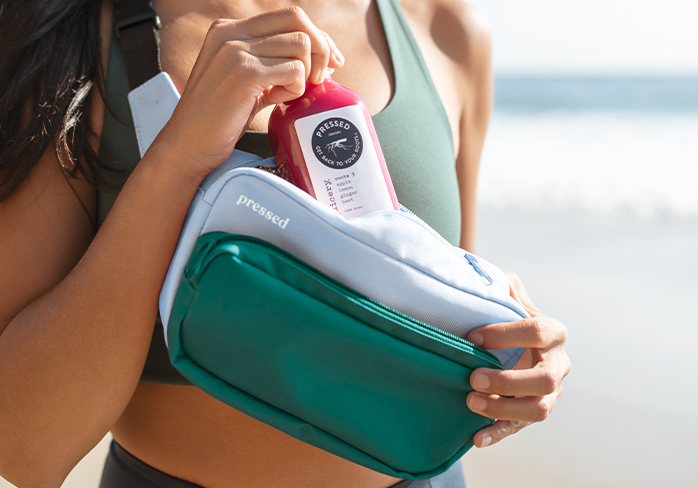 TWO: They're insulated. As expected, any fashion accessory coming from us is insulated for max juice-friendliness. Each fanny pack has an insulated compartment that easily holds two juices or one juice and one shot. Keep your favorite flavors colder longer for hikes, bikes or just trips around the block.
THREE: New logo, who dis? If you look closely, you'll notice something different about our logo on these packs! That's right, coming soon, we're revealing a brand refresh you're absolutely going to love - and these packs are our very first sneak peek reveal!
FOUR: They're sustainably made! The most exciting feature of our new fanny packs is that they are totally sustainable. Each fanny pack is made from 10 recycled plastic bottles. We're thrilled to be offsetting plastic waste with such a functional new product and can't WAIT to reveal more to our community about what we're planning next.
Stay tuned for many more sustainable initiatives from our team as we make our way through 2021!
To get your hands on the new fanny packs, act fast! Our packs are limited edition and selling quickly. Simply add the pack color of your choice, Rose & Navy or Green & Blue, to your order for $8 a piece or spend $29+ and get a pack for just $2 more! SHOP NOW