Pressed™ Blog
Building a Brighter Tomorrow
Building a Brighter Tomorrow
As your partner for good, we're dedicated to embracing inclusivity, celebrating diversity and inspiring meaningful change. We also strive to support our LGBTQQ+ team members and communities. This Pride, we're excited to once again partner with LYRIC, a Bay Area non-profit that works tirelessly to enrich the lives of LGBTQQ+ youth and their families. To support LYRIC, we've created three limited-edition Pride juices that will be available in June and July with a portion of proceeds benefiting the organization. For every limited-edition juice you purchase, you will help fund the invaluable programs offered by LYRIC and support this instrumental community resource. Show your support and shop our Watermelon Rose, Watermelon Pomegranate, and Honeydew Ginger.
Founded in 1988, LYRIC has fostered LGBTQQ+ youth development for over 30 years by providing education enhancement, career training, leadership development, and more. LYRIC offers stipend-based programs and paid employment opportunities, including artistic resistance, community leadership, and mentorship. The non-profit also provides youth advocacy services for navigating job hunting, school enrollment, medical services, and mental health resources.
Last year, Pressed was able to make an impactful contribution to LYRIC thanks to the support of our customers. We hope you'll join us once again as we offer our support in 2021.
One of LYRIC's greatest community contributions is giving a voice to so many young members of the LGBTQQ+ community. LYRIC is especially instrumental when it comes to championing the work of young artists through their resources and specialty programs. We are excited to feature the work of four young artists who continue to shine thanks to LYRIC's impact.
"Originally, my Pride meant family. The way I feel around queer people, the way I feel when I go to a Pride event, I feel like I belong. I feel that way because I can let my full self out. I feel like a piece of the puzzle. And when I take the time to accept myself, file my sharp edges, I fit perfectly. We connect. Because behind the scenes, we are all working on creating the home we desire within ourselves so that we can not just invite others in, but to share our comfort, our acceptance, our love with our family that we have built." - Nick Bross, @Kidstrawberry
"Pride is not just about being queer, it's about representing every oppressed identity, and I think my art captures it by showing love and appreciation between individuals especially now during a time where we are often pinned against each other by constructions of power when we should be uplifting each other." - Anonymous
"My position as a nonbinary Mexican youth from San Francisco allows me to witness the shifts the LGBTQQ+ youth community experiences and bring forth our visions for the future. This image was inspired by the papel picado hung up at a Dia De Los Muertos event I attended in Mexico City three years ago. Mourning the early loss of life of trans women, naming them, and committing to honor them through our everyday actions, and then, of course, celebrating their lives through music and dance is what this piece is all about." - Sophie Garcia, @thizzociating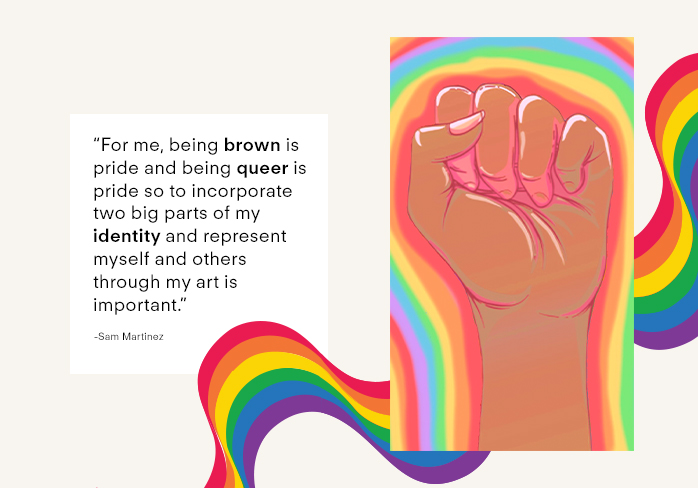 "For me, being brown is pride, and being queer is pride so to incorporate two big parts of my identity and represent myself and others through my art is important. The basic rainbow that is shown in this art is a symbol of pride but also a symbol of love, care, community, and healing. For me to draw the brown fist also shows pride. Something our community often fails to recognize is the brown, black, and queer individuals who have fought for our rights at the forefront of every movement, not just LGBTQ+ movements. I believe that my piece shows the intersectionality of what it means to be brown and queer." - Sam Martinez, @Samm5101
We're proud to support organizations like LYRIC and will continue to find ways to empower and uplift the LGBTQQ+ community. We are also deeply grateful to our customers for joining us in our ongoing donation efforts. Together we can build a brighter and more inclusive future. Shop our new juices and show your support!